Government / State / Agency Methods
Product Announcement from Chem Service, Inc.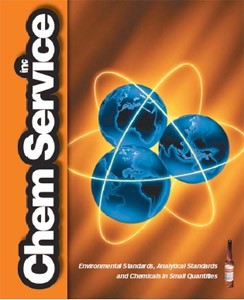 The Government/State/Agency chemical standard section of Chem Shervice, Inc.'s catalog provides the necessary standards to run various published methods. These solutions are tested and certified according to a stringent quality criterion. They follow the guidelines for standard preparation for the indicated methods and conform to the high standards of Chem Shervice's ISO certification program. They retain samples of the test solutions for on going stability studies.
First the purity and identification of each compound is established before the compound is utilized for a solution or mixture. For stock and custom solutions, corrections are made for any compound having a starting purity of less than 99%. Certificate of Analyses are provided on request. All mixtures and solutions are shipped with Material Safety Data Sheets. All of the solutions are traceable by a lot number.
Provided with each solution is a list of each of the individual compounds in the solution. Each compound is listed by their part number and the individual compounds can be purchased, as individual materials at 98+% purity, if so desired.
Standards
EPA 500 Series Methods for Drinking Water (501 through 556).
EPA 600 Series Methods for Wastewater Pollutants (601 through 1626).
EPA 1600 Series Methods for Wastewater Pollutants (1618 though 1666).
EPA SW-846/8000 and 5000 Series Methods for Monitoring Organic Pollutants in Groundwater, Wastewater, and Solid Waste.
EPA TCLP 1311 Methods for Determination of Both Organic and Inorganic Analytes in Liquid, Solid, and Multiphasic Wastes.
EPA Contract Laboratory Program Standards for Target Compound List in Ground Water, Sediment, and Soil.
Air Toxic Methods TO-1 through TO-13.
Total Petroleum Hydrocarbons.
ASTM Methods.
UST Standards Including Weathered Fuel and State Standards.
Hazardous Substance List (HSL) Volatiles Standard Mixture.
International Standards for Canada (MISA), German Azodye Standards, Europe, Japan JMHW and JEA Standards.
Korea Drinking Water KDWR Standards.
---