Broaching Machines
Product Announcement from Colonial Tool Group Inc.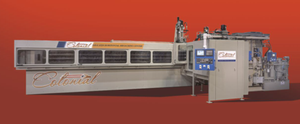 Colonial is a world class manufacturer of Broach Tools, Spline Rolling Racks, Machine
Systems and Spindle Products. We are controlling costs and quality by enabling our Management Team to oversee the entire development, manufacture, installation and service of our products.

Colonials tradition of customer service excellence provides in-field service of our products, technical resources to assist in trouble-shooting, materials selection, coolants, etc. Consultation is available to assist with part process and machining evaluation.
Colonial's continuous improvement enables us to maintain leadership in quality and customer service. Engineered solutions, advanced materials, in-house heat treatment tailored to application, and skilled, experienced toolmakers ensure delivery of world class machine tool products.
Please take some time to review our website and feel free to contact us to get answers to any of your questions about our "Lowest Cost Per Piece Program."

Pictured here:
CNC - 240" / 6100mm – 6 axis – multilevel turbine disc broaching center.
---