Stainless Steel Regulators
Featured Product from ControlAir LLC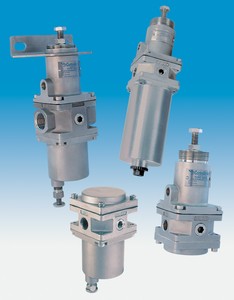 Type 350/360/370SS Series Stainless Steel Regulators
The Type 350/360/370SS series of stainless steel regulators, filter regulators and filters are designed to stand up to the harshest environments while providing highly accurate pressure regulation. Proven 316L stainless steel housing and filter assemblies along with fluorocarbon diaphragm construction make the 350/360/370SS compatible with sour gas and adaptable to off shore environments. This quality instrument is economical to buy as well as operate, and provides extremely stable and repeatable control of gas pressure. Oversized valving helps the unit achieve high flow rates with minimal pressure drop. These regulators also meet NACE MR0175 requirements for sulfide stress cracking.
Stainless Steel Regulators And Volume Boosters for Offshore and Corrosive Environments
ControlAir's family of stainless steel process control devices utilize corrosion resistant stainless steel to provide longer life in offshore and other harsh environments. All are designed for high-performance and accuracy while being in the most challenging environments.
Regulators provide accurate pressure regulation and quick response; offered as filter service, high flow capacity, low temperature and Autodrain.
Our Volume Boosters offer high flow capacity and are designed to increase the stroking speed of control valves.
The Lock-Up Relay is a reliable unit for fail in place applications of control valves when air supply drops below acceptable pressure levels.
ControlAir Inc. is a leading manufacturer of precision air pressure regulators, I/P transducers, E/P transducers, P/I transducers, valve positioners, air relays, volume boosters, air filter regulators and frictionless diaphragm air cylinders.
ControlAir offers world-wide distribution for companies that demand excellent service and outstanding technical support for their compressed air pressure regulator applications.
Our ISO-9001 registered quality system assures tightly controlled specifications and processes, resulting in high performance, dependable pneumatic controls.
Our dedication to a streamlined manufacturing process assures customers of product availability and on-time delivery.
ControlAir specializes in joint development projects and strategic design partnerships - customizing our products to meet the specific needs of our customers. OEM inquiries encouraged.
Specialties
Precision Air Regulators, Transducers (I/P,E/P,P/I), Pneumatic Controls, Volume Boosters and Air Relays, Valve Positioners, Diaphragm Air Cylinders