LTL 750 Tension Link Load Cell
Product Announcement from Cooper Instruments & Systems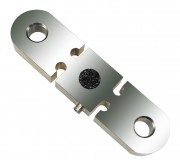 Ranges from 0-10,000 Lbs to 0-100,000 Lbs The LTL 750 allows easy mounting for tension loads up to 50 times the structural strength capacity. This one piece design allows for outdoor installation. The LTL can be used with the MasterLink 3000 for wireless application.
ranges from 0-10,000 to 0-100,000 lbs
structural strength up to 5x capacity
easy installation
one piece design
designed for outdoor applications
used in overload protection devices
options for inline amplifier, size of loading holes and integral cable
CLICK HERE for pricing information.
---