Metal Rope Pull Switch for Large Area Protection
Featured Product from Euchner-U.S.A., Inc.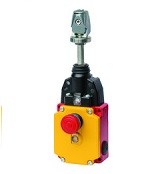 EUCHNER Metal Rope Pull Switch (RPS-M switch) provides protection across large areas, compared to an Estop button. Operation is possible along the whole rope length, and not just a small area within reach of the switch. The RPS switch triggers with an increase (pulling) or decrease in tension (severing) of the safety cable or pushing of the E-stop with redundant safety and monitoring contacts. The RPS-M switch is Reset with a pull of the button while proper rope tension is present.
Click here to learn more, including product specs, typical applications, features and benefits and to download the product brochure.