Fluid Bed Processors
Service Detail from GEA Process Engineering Inc.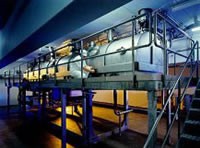 Niro has for the past 75 years been the world leader in the supply of fluid bed processors for drying, cooling, coating, agglomeration, granulation, and other processing techniques. We supply fluid bed processing systems for particulates engineering that enable the production of powders, agglomerates, granules, and pellets. Niro supply fluid bed processing systems of all sizes, both continuous and batch, depending on your needs.
Niro fluid bed processors are the systems of choice when processing particulate product such as dry or damp powders, filter cakes, or centrifuge cakes. Any particulate matter between 20 and 5,000 microns with a limited particle size range is a good candidate for fluid bed processing. We offer a complete range of sizes and capacities in agglomerator systems and granulator systems, from custom-designed large process lines to laboratory and pilot units. In general our fluid bed processors fall into four categories:
---