Automated & Manual Video Quality Testing
Featured Product from GL Communications, Inc.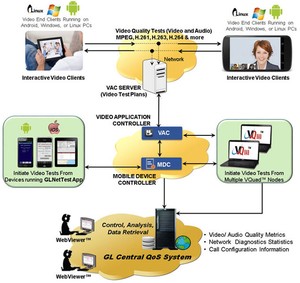 Video services can be broadly classified into two categories: Video Broadcasting or streaming, and Video Conferencing. Video broadcasting is essentially a one-way application, streaming video from service provider to consumer devices, and Video Conferencing, is basically two-way web-based interactive application (phone chat apps), much like voice, with simultaneous upstream and downstream for communications over IP. Consumer applications include Google Hangouts™, Apple FaceTime®, Microsoft Skype®, along with Enterprise solutions from Cisco TelePresence®, Polycom® Video Solutions and BlueJeans, to name a few. Cisco WebEx®, and Citrix GotoMeeting™ also provide Video Conferencing along with screen sharing, texting, and audio conferencing.
GL's Voice, Video, and Data Quality Test Solution provides the flexibility of performing automated tests on all types of data to and from the Smartphones, confirming performance, quality and reliability of all services. Along with existing voice, and data quality test solution, GL's VQuad™ now adds the ability to test, and measure video services over IP, and Wireless networks to determine the performance of a video call.
GL's GLNetTest app. along with the GL VAC (Video Application Controller) which is installed on any off the shelf Android mobile device, thus supporting both video and data testing from the mobile device. In other words, the GL Video Conference test solution tests video between any two devices (Android, Windows, Linux), while allowing the user to specify the exact Video parameters and returning Video and Audio MOS along with a variety of Video metrics.
The GLNetTest supports Data testing from the mobile device including the following tests, TCP, UDP, HTTP, VoIP, FTP, DNS, SMS, and Video Simulation. In addition, the GL VQuad™ application supports fully automated testing of the Video and Data test solutions using the VQuad™ scripting.
GL also supports manual and automated mobile Voice Testing using NetTest VQT app (supported on rooted Android devices), within the network, which includes features to place and receive calls over the network along with Play and Record voice over the established call.
The GL VQuad™ software is used for automating the Video and Data testing while also supporting Voice Quality testing of any voice network using the Voice Quality POLQA algorithm (per ITU-P.863). When the VQuad™ is coupled with the GL Dual UTA HD, which provides multiple interfaces for connecting to most any communication device, several different Networks can be tested including Mobile Wireless (2G/3G, VoLTE, 5G, VoWiFi, OTT), Mobile Radios, VoIP SIP, 2-wire Analog (FXO), and 4-wire Analog (Tx/Rx).
The results include Video MOS, Audio MOS, and A/V MOS along with a variety of analytical metrics and quality metrics. All the video/audio test results and events can be automatically sent to the central database. Using WebViewer™, query and display these results, statistics, status, and even plot Pass/Fail results directly on Google Maps.
Other associated applications (Voice Quality, Data tests, Echo and Delay tests, Fax tests, VBA) also works simultaneously with VQuad™ to provide "end-to-end assessment" with additional test and measuring capabilities.