UL listed air compressors for Sprinkler Systems
Product Announcement from Gast Group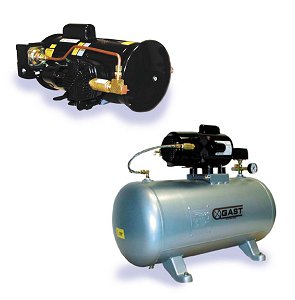 Gast Manufacturing, Inc., a Unit of IDEX Corporation, has a new line of UL listed air compressors that meet the new 2125 standard, "motor-operated Air Compressors for use in Sprinkler Systems."
The new UL listed air compressors are available in riser mount styles, for horizontal and vertical mounting and in tank mounted styles. All units are provided with special end shields for compliance with UL2125 and carry the UL Mark. These units feature oilless operation, compact motor mounted design and are painted black for easy identification in the field.
Horsepowers range from 1/6 hp to 1 1/2 hp to meet the requirements of sprinkler systems with volumes of 90 to 800 gallons. These compressors provide a range of 1.0 to 7.9 cfm free air flow at 40 psi. A 2 hp unit for 1000 gallon systems will be available soon.
---