Helander A-Series Rapid Action Roller Clutch-mini
Product Announcement from Tiny-Clutch | Helander Products, Inc.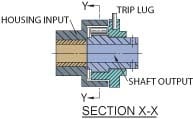 A-Series Roller Clutch General Description:
The A-Series TINY-CLUTCH is a miniature roller and cam type single revolution clutch. It also functions as a general purpose, rapid action clutch for selectively coupling a continuously rotating input and a driven shaft (output). The clutch features fast response, high torque capacity for a given size and is not subject to overheating
The A-Series TINY-CLUTCH produces intermittent motion in a driven shaft through a simple external trip pawl which is supplied by the customer to suit the particular application. The trip may be activated manually, mechanically, or electromagnetically. The A-Series TINY-CLUTCH may be arranged to engage and stop a driven shaft at the same angular position in cycles of one revolution or fractional revolutions.
A-Series Roller Clutch Operating Principle:
Power is applied to the clutch housing through a pulley, gear or sprocket mounted on the housing shoulder. The cam is pinned or keyed to the driven shaft. The outer housing drives the shaft through wedging action between the outer and inner components. The rollers are maintained in contact with the housing by the spring loaded cage.
A trip lug is provided on the outer shoulder of the cage. A trip pawl or other suitable device supplied by the customer rides on the shoulder until it interrupts the trip lug. This causes the cage to rotate and move the rollers out of engagement with the housing, thus releasing the clutch and stopping the shaft. The clutch remains free until the trip pawl is moved away from the lug.
The driven shaft is always disengaged at a predetermined position. It may be disengaged at intermediate points of rotation by adding additional lugs, resulting in simple control for indexing.
---