High-Reliability Components for Optical Networking
Featured Product from Hermetic Solutions Group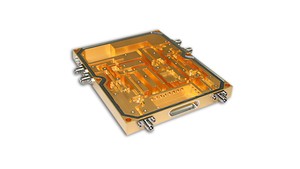 Evolving Solutions for Evolving Performance of Optical Networks
At the core of how Hermetic Solutions Group supports the optical networking communications market is our commitment to develop and support new designs, to provide rapid prototyping, often at significantly reduced tooling costs, and to ramp capability for high-volume production. We are an agile organization with a razor sharp focus on providing solutions for hard-to-resolve issues that may arise during and after system design. We leverage our vast experience in optoelectronics, as well as other microelectronics applications, to provide extremely high-quality, high-value products and service to our customers. There is no "end of the day" at Hermetic Solutions Group - we know that you are constantly designing for faster, more reliable performance and we are absolutely on-call to help you succeed.
Our Offerings in Optical Networking
The Hermetic Solutions Group manufactures high-reliability components to support a number of optical networking device applications, including:
Digital attenuators
Cellular communications
DWDM (Dense Wavelength Division Multiplexing) optical transport systems
Key Benefits of Working with HSG
As transmission speeds increase beyond 100 Gb/s in both data centers and telecommunication applications, the need for complex, high reliability hermetic optoelectronic devices has never been stronger. Hermetic Solutions Group is uniquely positioned to help you maximize device reliability in any application.
Our Comprehensive Range of Solutions
We bring customers' hermetic electronic package designs to life and use unique materials and manufacturing processes to help optimize for weight savings, footprint reduction, thermal transfer and more. Our precision machining capabilities allow us to meet tight tolerances for aluminum, Kovar and titanium housings. Our fiber optic and telecom packaging solutions ensure the electronics within those devices are unaffected by whatever extreme environmental condition they operate in.
Hermetic Interconnect Products
Our Micro-, Nano-, Sub-D, and 38999 style connectors all meet or exceed their respective military specification standards. They feature unique ceramic-to-metal sealing technology for maximum long-term reliability and high electrical performance - we are also experts in manufacturing a range of glass-to-metal sealed interconnect components. Our hermetic optical, wave-guide and sight windows can be manufactured with a variety of frame materials and glass types with either traditional metallization/solder construction or direct ceramic to glass seals.
There's more to a reliable hermetic package solution than a box and connectors and we manufacture components to ensure a module's long term viability. We produce: award winning getter solutions to prevent post-hermetic sealing build-up of contaminants, solder preforms that aid in attaching electronic circuitry, ring frames that become integral side walls of a hermetic package, and custom thermal spreaders that ensure heat from a chip or substrate is dissipated. To top things off, we also manufacture package lids.
Laser and Integration Services
We provide high-speed laser welding, sealing and marking with consistent accuracy. For customers who wish to bring those capabilities in house, we also custom design and build laser welding, cutting & sealing systems - the same systems we use to provide external laser services.