Thermal Interface Material...Heat-Spring®
Featured Product from Indium Corporation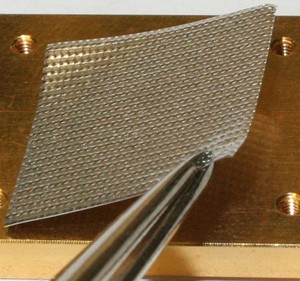 Indium Corporation - Many applications call for TIM that can easily be placed on a chip, on a lid or perhaps just against a heat source and a cooling solution contact plate. We developed a metal TIM which would work as a compressible Interface Solution for such an application. Our pressure range is 35psi to 100+ psi.
An SMA-TIM made of indium offers uniform thermal resistance at lower applied stresses in compressed interfaces. The malleability of indium minimizes surface resistance and increases heat flow. Our patented Heat-Spring® technology will further reduce the thermal resistance.
Indium's line of high-end thermal interface materials delivers superior performance over time. As SMA-TIM products are made of metal, they cannot experience pump out problems even under power cycling. The Heat-Spring® material, which does not contain silicone, will conform to surface disparities over time, thereby reducing thermal resistance through the life of the TIM. Due to its solid state, the SMA-TIM also resists bake out. Heat-Spring® Research Kits are available for testing in specific applciations.
Visit http://buy.solder.com/Heat-Spring-Kits/C1018_1/ to purchase your kit or contact our technical support or applications engineers at askus@indium.com for help in selecting the kit that is right for your application.

Play Thermal Interface Material...Heat-Spring® Video