Newest Express Boundary-scan Controller
Product Announcement from JTAG Technologies Inc.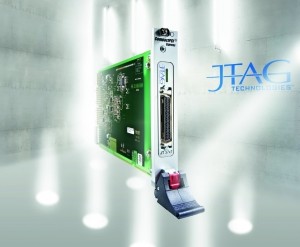 The new DataBlaser JT 37X7/PXle offers users sustained test clock speeds of up to 40MHz by use of JTAG Technologies' proprietary ETT ( Enhanced Throughput Technology) system and features as on-board flash image buffer memory. Supplied with the complementary QuadPRO system, the new DataBlaster/PXle offers four synchronised TAPs able to support multi-TAP test targets or gang programming of four single TAP targets. QuadPOD can also house the full range of JTAG TEchnologies' SCIL modules, allowing the user to deploy custome test interfaces (BDM,I2C, etc) or the mixed signal DAF (Digital,Analog Frequence) measurement Module.
---