Process Cranes
Product Announcement from Konecranes Inc.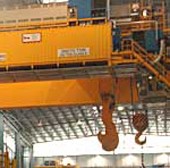 If a crane in an integral part of a production process, it is referred to as a "process crane." Process cranes are designed for around-the-clock use with maximum reliability and maintainability. Konecranes is the world leader in severe-duty cranes for process industries.
Process cranes engineered for severe-duty by Konecranes answer your most stringent performance requirements: automation, highly demanding duty cycles, difficult operating environments, high operating speeds, and special control systems. Hot metal ladle cranes, scrap-handling cranes, coker cranes, automated paper rolls, and steel coil handling cranes are a few of the special cranes engineered and built by Konecranes to improve productivity and process efficiency.
Konecranes is a member of the Crane Manufacturer's Association of America (CMAA) and our manufacturing facilities are ISO 9001 certified. Konecranes understands the vigorous demands of process industries. This has been their motivation to become the lifting partner of choice for many companies.
---