Transparent PCB Enclosure Provides Insight
Product Announcement from LADD Distribution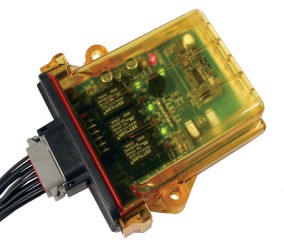 DEUTSCH industrial offers compact circuit board enclosures that accept snap in headers. The enclosure features a through hole mounting flange on each side, as well as optional venting. Designed with space to accommodate one or two DTM Series interfaces, the headers feature 90° pins. A radial flange seal provides environmental sealing to the enclosure. The headers mate with DTM standard plugs.
By combining the flexibility of DEUTSCH industrial interchangeable PCB headers with the field-proven performance you demand, the transparent enclosure provides the reliability and application design ease you expect from the DEUTSCH industrial line of products.
The transparent EEC-325X4B-E016:
• Eliminates the need to drill holes for LEDs or digital readouts.
• Allows for complete viewing of the printed circuit board.
• Enables infrared data transmissions.
• Molded in clear Ultem material
Vist www.laddinc.com for more information.
---