Sealed Dust Caps Protect Unmated Connectors
Product Announcement from LADD Distribution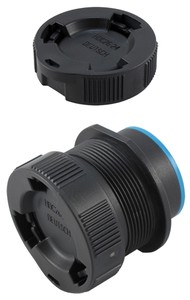 LADD Distribution, the exclusive authorized US distributor of TE Connectivity's DEUTSCH industrial environmentally sealed electrical connectors, is pleased to announce the release of the HDP20 Series dust cap accessories. These accessories work with the DEUTSCH industrial HDP20 product family. HDP20 Series protective dust caps, designed especially for harsh environments, provide an environmentally sealed interface for unmated HDP20 Series receptacles.
The new heavy-duty thermoplastic HDP20 Series dust caps are available for sizes 18 and 24 shell HDP20 Series receptacles. Once installed, the sealed dust caps will prevent dirt, dust and moisture from contaminating unmated receptacles. The rugged caps feature an integrated mounting hole, which can be fitted with a rubber or metal lanyard to keep the cap close when not in use.
The DEUTSCH industrial product line and the HDP20 Series dust caps offer innovative connector solutions for harsh environments. LADD Distribution, your exclusive authorized US DEUTSCH industrial distributor, is pleased to offer the HDP20 Series dust caps to meet your industrial connector requirements. Please contact LADD at www.laddinc.com or call 1-800-223-1236 for more information on the new HDP20 Series dust caps and all your DEUTSCH industrial connector needs.
---