New- Lapmaster double-sided fine-grinding system
Product Announcement from Lapmaster-Wolters International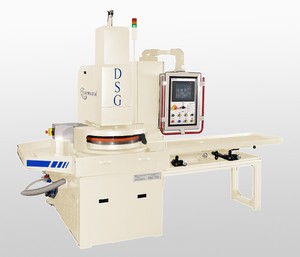 Lapmaster is pleased to provide the attached brochure for our newest piece of equipment, the Model #DSG-720HP (high power). This is a double-sided fine-grinding system that is both affordable and accurate. It is now more powerful and more flexible, as well.
Customers have provided feed-back on the original DSG-720 system, regarding what they would like to see changed to optimize the system and we have responded!
Here is a short list of what makes the DSG-720HP a "2nd generation" machine:
Each main drive for the upper and lower wheels is increased from 7.5HP to an impressive 15HP!
The torque provided with the above 15HP drives allows access to a greater portion of the available 2,000 pounds of down-force
The maximum speed for the upper and lower wheels has increased from 150RPM to 200RPM
Center pin drive maximum RPM increased from 90 RPM to 100 RPM
Now, both the upper and lower wheels are water-cooled (previously only the upper wheel was cooled)
Siemens controller and Siemens touch-screen HMI are new. Previously, the controller was Allen Bradley.
Machine and controller now arranged to facilitate both parts load and unloading functions (previously only parts loading).
Please do not hesitate in contacting Lapmaster with any inquiries you may have concerning this new enabling technology.
You can contact Lapmaster via E-mail at sales@lapmaster.com and also at the E-mail address & numbers listed below.
---