Convex Lens Package Hermetic Silicon Photosensor
Featured Product from Light in Motion LLC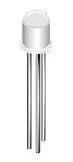 Light in Motion's QSA15X family are Photologic ICs which feature a Schmitt trigger at output which provides hysteresis for noise immunity anti pulse shaping.
The basic building block of this IC consists of a photodiode, a lineas amplifier, voltage regulator, Schmitt trigger and four output options. The TTL/LSTTL compatible output can drive up to ten TTL loads over supply current from 4.5 to 16.0volts. The monolithic die packaged in a norrow angle, hermetically sealed, TO-18 metal can package.
Features:
High noise immunity.
Direct TTL/LSTTL interface
Hermetically sealed package
Reception angle of +/- 12 Deg.