Labels & Equipment for Food & Beverage Industry
Service Detail from MPI Label Systems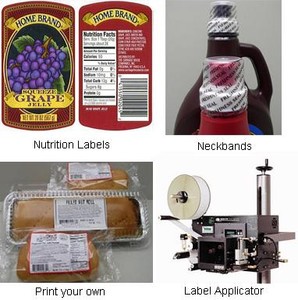 Custom Labels
· Nutrition Labels - Custom nutrition food labels do not have to be pressure sensitive labels. Depending on your products, it can be a shrink sleeve, roll-fed wrap label, or a cut and stack label.
· Wine Labels - We have several methods for printing wine labels
· Digital printed without film or plate costs and short run flexibility.
· Flexographic printing is the most utilized providing high quality labels
· Print your own using thermal printers and labeling software.
· Booklet Labels is a great way to say a lot with limited space. It allows you to fit any volume of information on your product without compromising graphics and branding elements.
· Coupon Labels is a multi-layered construction with peel-off top for immediate consumer redemption or gratification. They are a great way to communicate your products' promotions, discounts, rebates or other sales incentives.
· Roll-fed Wrap Labels can be applied to cylindrical, square or rectangular containers made of metal, plastic or glass. They have excellent print quality, resists moisture, tears and scratches, speed-to-market, and flexible production to reduce costly inventory.
Food Traceability
· A code comprised of an ECC200 Data Matrix code with variable data, human readable data, and the HarvestMark® logo is used on fresh goods and vegetables giving valuable information that the product is safe and fresh, and where it came from.
Shrink Sleeves
· Shrink Sleeve Labels - The body sleeves provide decorations to round, square, rectangular, unique shaped, and all types of containers (glass, plastic, metal).
· Preforms - are used to secure the lid to the container and provide tamper evident protection.
· Neckbands - shrink tightly around the lid, neck, or cap of container providing tamper resistant protection.
· Multipacks - These bands can combine two, three even four products together to provide a promotional type package with great shelf presence.
RFID
· RFID Product Applications - many applications & uses where RFID labels & tags can be used. View them all here.
Equipment
· Label Applicators - automation for applying labels to your products on production lines.
· Print & Apply Applicators - prints labels using a print engine and applies the labels.
· Shrink Equipment - shrink sleeve applicators, heat tunnels, steam tunnels, and steam generators.
Print Your Own Labels
· Thermal printers - large variety of printers from small compact desktop to large and robust industrial thermal printers.
· Color label printers - using high resolution inkjet technology to print full-color labels on demand.
· Labeling software lets you design & format your own labels.
---