300AB (AC) Utility Capstan Electric Winch-Hoist
Product Announcement from MY-TE Products, Inc.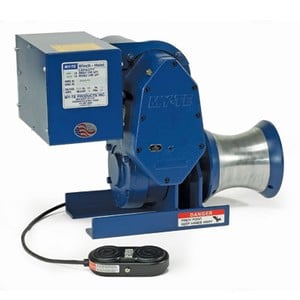 My-te's flagship capstan winch-hoist is a tough, highly portable unit that is perfect for the likes of utility truck installation, overhead line crews, tower and antenna erection, and transformer replacement. It maintains an 800-lb single-line or 1,600-lb double-line lift capacity with a capstan rope drum and a 10-ft pendant hand or foot control.
APPLICATIONS
This rugged, portable winch-hoist is great for utility truck installation, tower and antenna erection, transformer replacement and overhead line crews.
FEATURES
115V brake motor
Worm gear reduction for positive load holding
Portable and rugged
10′ pendant hand or foot control
Capstan rope drum
Frictionless bearings
---