18650 LI ION Battery Holder, BK-18650-PC6
Product Announcement from Memory Protection Devices, Inc.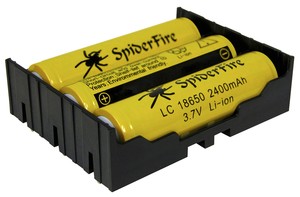 This battery holder houses three 3.7 volt Lithium Ion 18650 rechargeable batteries. The part number for the holder is BK-18650-PC6 and it was designed for use in consumer, industrial and communication products where durability is of paramount importance.
By using 18650 batteries that have a built in Protection Circuit Module (PCM), designers can eliminate the drawbacks associated with using common cobalt LI-ION 18650 cells (LiCoO2). Protected cells offer 2400 to 3000 mAh and are available from several well known makers of 18650 batteries. Some customers choose Lithium Iron Phosphate 18650 batteries (LiFePO4), which are safer than standard cells. LiFePO4 batteries weigh less, withstand extreme abuse and can be recharged many times more than traditional LiCoO2 cells.
The BK-18650-PC6 has six large nickel plated stainless steel pressure contacts with pc pin blades that are 1.5mm wide. These sturdy contacts make the holder suitable for applications that require a pulse or burst of energy to flow through them quickly. Six terminals also make series or parallel connections a snap. Offering low resistance and designed to keep a tight connection with the cell means you're assured of a long term trouble free connection.
The glass filled plastic body meets UL94V-0 standards, is lightweight and very strong for a long service life. The holder size is under 78 L x 60 W x 22 H mm. The holder features six recessed mounting holes for hard mounting with screws, eyelets or it can be bonded down with adhesive or double sided tapes. Soldering the 6 pc pins in some applications will be sufficient for mounting the holder and thereby save time, labor and material costs.
---