First Parallel SuperFlash® Development Kit
Featured Product from Microchip Technology, Inc.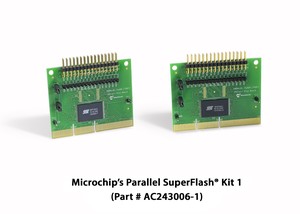 Key Facts:
New development kit that enables designers to evaluate Microchip's Parallel Flash products utilizing Microchip's modular development tools, to help speed up time to market.
Parallel SuperFlash® Kit 1 is the second Microchip SuperFlash development kit, after the Serial SuperFlash Kit 1.
The Parallel SuperFlash Kit 1 includes two Parallel Flash PICtail™ Plus daughter boards, one with a 64 Mbit device (the SST38VF6401) from the Advanced MPF+ family, and one with a 16 Mbit device (the SST39VF1601C) from the MPF+ family.
The Parallel Flash PICtail Plus daughter boards interface with the PICtail Plus connector found on Microchip's Modular Explorer 16 Development Board. These daughter boards also work with the MPLAB® X Integrated Development Environment (IDE), to enable the quick creation of code and shorten the overall development time. Example code and software drivers for the two Parallel Flash devices written using the MPLAB X IDE, are available today via free download.
Packaging, Pricing & Availability: The Parallel SuperFlash Kit 1 (part # AC243006-1, $30) is available for purchase today. For additional information, contact any Microchip sales representative or authorized worldwide distributor, or visit Microchip's Web site at http://www.microchip.com/get/SLJW. To purchase products mentioned in this press release, go to microchipDIRECT or contact one of Microchip's authorized distribution partners.