SNAP-AITM-4i
Product Announcement from Opto 22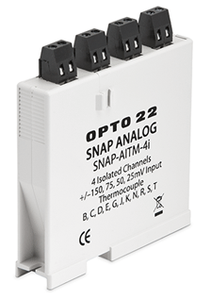 The SNAP-AITM-4i analog input module includes four individually isolated points. It's designed to monitor temperature using thermocouples or to monitor sensors that output millivolts.
- Thermocouple types B, C, D, E, G, J, K, N, R, S, or T
- Millivolts: +/-150, +/-75, +/-50, or +/-25
- Each point individually configurable
- Optically isolated
- Transformer isolated
- Channel-to-channel isolated
- Guaranteed for life
Mount the SNAP-AITM-4i on a SNAP PAC rack alongside other analog, digital, and serial I/O modules. Use a SNAP PAC brain or rack-mounted controller for communications and I/O processing.
---