Single-Channel Router
Product Announcement from PCN Technology, Inc.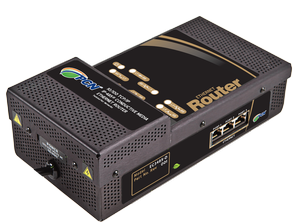 PCN's Network Ethernet Router is a single-channel router that performs the same function as the multi-channel Ethernet router: to reliably and elegantly transport up to 4 PCN Ethernet Switches and manage traffic throughout one or more interconnected networks of multiple data and wire types, including two-
wire Ethernet and Ethernet over copper expansions. Single-channel Ethernet routers are ideal for small to medium size networks.
Available in multiple types, with multiple interfaces and accessories, PCN's standard Single-Channel Industrial Ethernet Router is easily installed for new Ethernet networks or for drop into existing serial, coax, or other wired infrastructure. Like our other Ethernet extension products, the single-channel
router enables communications solutions like Ethernet over copper, two-wire internet, and IP (Ethernet) over serial cable.
Our Single-Channel Industrial Ethernet Routers provide an unparalleled return on investment by allowing you to make use of existing infrastructure, minimizing or eliminating the need for extensive renovations and downtime for network installation or upgrade.
---