Nitrite (NO2) Analyzer - Boiler and Chiller Water
Featured Product from Real Tech, Inc.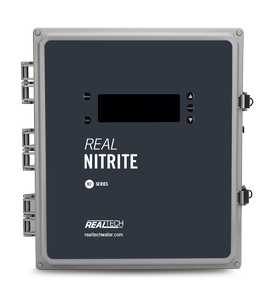 Affordable Real-time Nitrite Monitoring
Real Tech's Nitrite Analyzer provides rapid real-time measurement of nitrite (NO2) in water. Continuous nitrite monitoring can bring significant value to many applications especially for boilers and chillers. In these applications, real-time monitoring of nitrite, which is commonly used as a corrosion inhibitor, can optimize service intervals
to align with a drop in nitrite levels. This saves time and ensures that corrosion and costly repairs are prevented, improving efficiency and increasing the longevity of the asset being managed.
Measurement Principle
Real Tech's Nitrite analyzer utilizes light at various wavelengths for measurement. Many compounds absorb light in the UV-VIS spectrum including nitrite. How much the compounds absorb is directly proportional to their concentration, and compounds that may interfere with nitrite measurement are compensated for. Benefiting from Real Tech's innovative LED technology, accurate and stable measurements are obtained with minimal maintenance or operator intervention.
Simple to install, easy to operate, no reagents and no waiting for lab results.
For over 15 years, thousands of clients in over 50 countries have trusted and relied on Real Tech to meet their water quality monitoring needs.
To learn more about Real Tech's practical, accurate, and affordable online water quality monitoring solutions visit us at www.realtechwater.com