CEMS Low Cost Emissions Monitoring Package
Featured Product from Siemens Analytical Products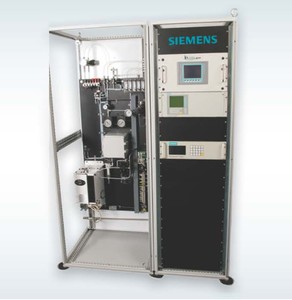 EPA COMPLIANT
The Standard CEMS is a low cost emissions monitoring package designed to operate in a general purpose, environmentally controlled shelter or cabinet. The targeted markets are NOX reduction sites at Refining, Hydrocarbon Processing and Chemical Plants. The standard monitoring requirements are based on the US EPA 1990 Clean Air Act as detailed in 40 CFR-Part 60, as well as local and state requirements. Special options are available for Part 75 monitoring upon request.
The basic system is designed to monitor predefined ranges of nitrogen oxides, carbon monoxide and oxygen in process boilers and furnaces. The key features of the system are low maintenance and high uptime at an economical price.
The system consists of two major components: the analysis rack and the sample probe box. The analysis rack contains Siemens analyzers, a Siemens system controller and a Sample Conditioning System. The probe box is mounted at the sample extraction point, usually on a stack or duct. The probe box is designed to extract and filter the hot wet sample from the stack or duct. The probe box also provides for calibration through the probe and blow back of probe filter. The filtered sample is then drawn to the analysis rack via a pump through a heated line for water removal by a chiller and quantification by the analyzers. The system is designed to measure pre-defined ranges of nitrogen oxides, carbon monoxide and oxygen.