Complete Guide to Gas Mixing and Blending
Featured Product from Sierra Instruments, Inc.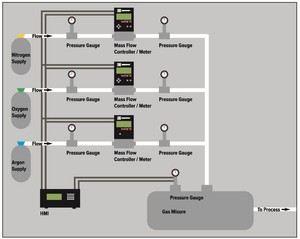 There are many applications and industries that rely on gas mixing and blending. In a laboratory environment, our customers need gas mixtures to test catalysts to see the effect of certain concentrations of pollutants on gasses. The food industry needs a mixture of gasses to prevent oxidation of food. The semiconductor industry needs accurate gas mixing to generate certain atmospheres in their ovens. Hospitals mix gases to create O2 rich air or narcotic gasses.
There are hundreds of other applications that utilize gas mixing like welding, dilution, chemical reactions, testing of gas analyzers, filling light bulbs, and double glazing windows. The most common gas blending applications, however, are related to burning and combustion.
Do you remember the basics of combustion? You need fuel, oxygen, and ignition. If the fuel and the oxygen are both gasses, it is ideal to mix them in the perfect ratio to get optimum and clean combustion.
We can name several applications for this type of gas mixing: Your car, big boilers, small flames used in the glass industry, big power plants, Waste burning plants, etc.
Read Sierra Instruments' "Complete Guide to Gas Mixing and Blending" to learn more about this challenging application and how to obtain perfect gas mixing and blending with capillary thermal mass flow controller technology.