Thermocouple Transmitters
Featured Product from Status Instruments, Inc.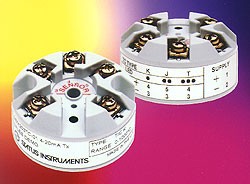 PUSH BUTTON TC Selection
PUSH BUTTON Ranging
Galvanically Isolated
Temperature Linear
Low Cost
8 Standard Thermocouple Types
The SEM203TC is the latest in a series of temperature transmitters from Status Instruments that do not require a PC, trim pots, switches or jumpers in order to calibrate. Instead, the SEM203TC uses a simple push button on the unit to both select the thermocouple type and range the transmitter. The SEM203TC incorporates the latest digital technology assuring drift free linearization, not available with analog designs. Galvanic isolation is standard. The SEM203TC is available in three versions, each accepting a choice of three different thermocouple types. An on board LED indicates the successful completion of ranging, TC selection and provides indication of sensor health.