Gas Flow Management
Featured Product from TSI Incorporated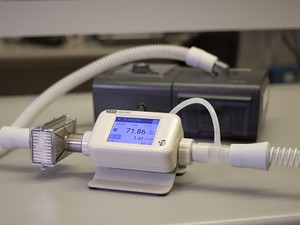 GAS FLOW MEASUREMENT
In the world of gas flow measurement, there are multiple technologies available, including:
Thermal flow meters
Differential pressure flow meters
Ultrasonic flow meters
Coriolis flow meters
Mechanical flow meters
These technologies cover all ranges of gas flow applications, including:
RESEARCH, PRODUCT DESIGN, AND DEVELOPMENT
Flow analyzers are used during the development of mechanical ventilators, anesthesia workstations, CPAPs and BPAPs, and oxygen concentrators
Flow meters are important for the development of pumps, valves, molds, nebulizers, inhalers, gas delivery systems, and more
EOM flow sensors are embedded in medical devices that function using gas flows
MEDICAL DEVICE AND LIGHT INDUSTRIAL MANUFACTURING
Flow analyzers are used in testing and quality assurance of flow, pressures, volume, and mechanical breathing parameters
Flow meters are used for testing and quality assurance of a wide variety of pneumatic flows
FIELD SERVICE
Manufacturers, biomedical technicians, field service engineers, and clinical technicians use flow analyzers to test whether medical equipment is functioning properly and perform service when needed
CALIBRATION AND METROLOGY
Flow meters and primary calibrators are used by air sampling device manufacturers and industrial hygienists to calibrate inlet flows of particle counters and pumps
TOP CHOICE-THERMAL FLOW METERS FOR GAS FLOW MEASUREMENT
Thermal gas flow measurement is one of the most common technologies available today. It consists of two primary methods for measuring gas flow, including.
Capillary Laminar By-Pass
Constant Temperature Loss/Constant Temperature Anemometery
Thermal gas flow measurement is popular as it provides large flow ranges with one instrument, has an extremely fast signal response, can be used in a wide range of applications, and is relatively inexpensive. It also provides high speed signal response and wide dynamic flow ranges. TSI Flow Meters take it further by providing a industry-unique flow body design that allows for minimal back pressure that helps ensure that true flow readings are provided.