Band Pass Filter for 5G NR Band 3 application
Featured Product from Temwell Corporation / Temstron Co., Ltd.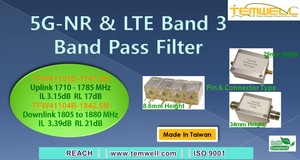 Temwell rolled out 1747.5MHz and 1842.5MHz Band Pass Filter for 5G NR FDD Band 3. The filters provide pass band frequency: Uplink 1710 to 1785 MHz and Downlink 1805 to 1880 MHz. Insertion loss less than 3.0-3.5dB; High return loss 15 dB up; excellent performance with high attenuation and small size. Products made in Taiwan and is customizable. Contact us for further discussion.
Link: https://reurl.cc/E7OaEm