Earn CEU Credit: Water Safety in Hospitality
Featured Product from Watts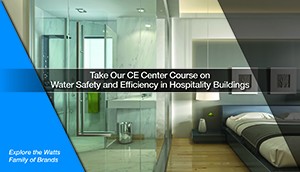 One thing all hospitality facilities have in common is mass water consumption. Guests and patrons of any hospitality establishment expect controllable hot and cold water, and lots of it. This is where back-of-house water systems come in.
Take our Architectural Record and CE Center course, Water Safety and Efficiency in Hospitality Buildings, to:
Identify the unique and specific water-related demands of hospitality facilities when it comes to guest expectations and operational challenges
Investigate specific safety issues related to water systems in hospitality settings
Assess the solutions available for different parts of a total water supply and drainage system
Describe the lessons learned in some specific hospitality buildings as described in case studies
Hospitality facilities need well-designed, properly installed, and reliable plumbing systems to meet their needs for hot and cold water supply and drainage. Take this course to learn more about how back-of-house water systems can impact guest satisfaction throughout any type of hospitable facility.