NET-429 TSN Network Switch for Harsh Environments
Featured Product from WinSystems, Inc.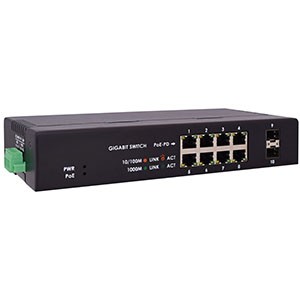 WINSYSTEMS' NET-429 network switch is designed for the harsh environments of the factory floor and provides performance for time-critical industrial networks. The switch has eight 10/100/1000 Mbps RJ45 Ethernet ports plus two 1000Base-X SGMII SFP ports and redundant power inputs with Power-over-Ethernet (PoE) PD support. Enabled for the latest IEEE 802.1 standards for Quality of Service (QoS) and Time Sensitive Networking (TSN), it includes advanced prioritization and timing features to provide guaranteed delivery of time-sensitive data.
FEATURES
Performance for Industrial IoT Edge Computing
IEEE 802.1 Time Sensitive Networking (TSN)
IEEE1588v2 one-step Precision Time Protocol (PTP)
8x 10/100/1000 Mbps RJ45 Ethernet ports
2x 1000Base-X SGMII SFP ports
Integrated Security Features
256 Entry TCAM for Deep Packet Inspection
Supports 4096 802.1Q VLANs
Powered for Remote Deployment
Redundant Wide Range 9-36V DC Inputs
Power over Ethernet (PoE) PD 802.3at Type1 device
Low power with Typical Power Consumption of 6 Watts
Designed to survive Industrial Control Applications
Fanless -40°C to +85°C Operating Temperature Range
Shock and Vibration Tested
Long lifetime (10+years availability)