Local Chapters
Service Detail from ASM International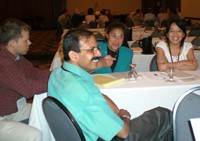 ASM Professional Chapters provide a valuable conduit between the Society and the local community. The ability to network face to face and/or virtually is imperative to furthering your professional interests as well as serving the industrial community by providing quality technical content and networking opportunities.
Benefits - Why participate in your local chapter? Enjoy networking with chapter members to share ideas and to advance your career. Receive updates from ASM headquarters on special offers. Participate in training opportunities and partake in awards and recognition programs to celebrate achievements.
Networking
Professional Advancement
Financial Support
Leadership Development
ASM Updates
Awards and Recognition
Activities - Participate in chapter activities - attend chapter meetings to gain knowledge and network with your fellow members.
Experience the excitement of plant tours and educational training
Technical Meetings
Plant Tours
Education Seminars
Student Programs

Leadership Roles - You learn leadership by being a leader. That's one of the major benefits of serving as a professional chapter officer - having the opportunity to learn and sharpen your skills to become a better team member, a better manager, a better leader.
Chapter Officer positions include: Chair, Vice Chair, Secretary and Treasurer
Start a New Chapter - Review the guidelines necessary for forming a new chapter. If after reviewing this information, you have additional questions, please contact the Chapter Relations department.
---