Bar Code Standards
Product Announcement from Applied Image Inc.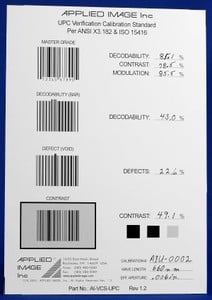 APPLIED IMAGE Inc. in conjunction with UCC (now GS-1 US) and AIM, developed a unique set of bar code calibration standards, based on the ANSI X3.182, ANSI/UCC5, and ISO standards.
In 1989, ANSI established a Bar Code Print Quality program creating a relative scale for bar code print quality levels which is now known as ANSI X3.182 (and also now ISO 15416) methodology. As an adjunct to the ANSI standard.
Calibration of bar code standards is performed using a specialized, custom-built scanning microdensitometer (which GS-1 refers to as "The Judge") which has been made to conform to ANSI/ISO methodology and creates NIST traceable calibrations.
---