Multi-Function Touch Counter / Timer (CTS/CTY/CTM)
Product Announcement from Autonics USA, Inc.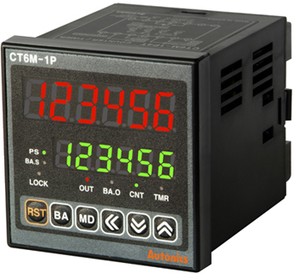 CTS/CTY/CTM Series
The Autonics newly upgraded CT Series Counter/Timer features all the functions of the original CT, but with additional functions added as well as adopting RS 485 communication. This new communication option allows the user to monitor and program the settings and parameters through our new PC DAQ Master software. In addition, it allows up to 6 digit pre-scaling as well as an increase in output contact capacity from 3 Amps to 5 Amps making the CT one of the most flexible Counter / Timer products in the industry.
Upgraded (Common)
Built-in modbus communication function (communication model)
Increase contact capacity to 5A (CTS, CTM series)
Available to set the one-shot output time (0.01 sec. to 99.99 sec.
Upgraded (Counter)
Available to set 6 digit (0.00001 to 999999) prescale value (4 digit: 0.001 to 9999)
Added BATCH counter function (CTM series)
Available to set count start point (initial value)
Added Up-1 / UP-2 / Down-1 / Down-2 input modes
Added Total/Hold operation modes in the indicator
Upgraded (Timer)
Available to select memory protection function in the indicator
Added range (6 digit: 999.999s / 9999m59 / 99999.9h, 4 digit: 9.999s)
Added Total/Hold/On time display operation modes in the indicator
Added INT2/NFD/NFD.1/INTG output modes
Existing Features
Multi-functional counter/timer (Includes 829,728 functions)
High speed counting of 10kcps
Prescaling function
Batch counter function for CT6M-1P, CT6M-2P only

Voltage input (PNP) or no voltage input (NPN) selectable
Individual ON/OFF time setting in flicker(FLK) mode
Key lock function
---