DriTech™ Dryer
Product Announcement from Despatch Industries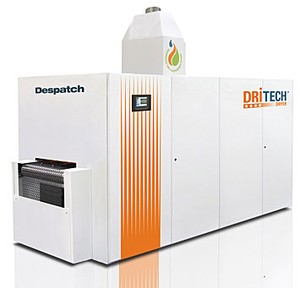 The new Despatch DriTech™ Dryer introduces a unique hybrid heating technology for the next generation in metallization drying performance.
The dryer is uniquely designed to decouple the VOC removal and binder burn-off for a more efficient drying process. A centrally located point-of-generation thermal oxidizer provides maintenancefree VOC abatement ensuring that the chamber remains free of contaminates and that smoke and solvent do not leave the ends of the dryer. Increased air dilution reduces the solvent concentration within the chamber and eliminates dead spots. Airflow is managed to reduce cold air entrainment at the entrance and exit. A rapid peak temperature and internal management of the insulation surface temperature prevents condensation.
The DriTech™ Dryer is designed for a fast peak thermal profile that delivers lower wafer exit temperature and maximum VOC release at an early stage resulting in maximum paste drying efficiency. The dryer has a significantly smaller footprint and has the flexibility to effectively dry a wide range of difficult to dry pastes.
---