Protocol 3™ Controller
Product Announcement from Despatch Industries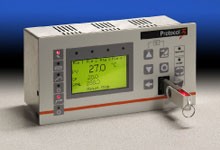 A Microprocessor Based Oven Controller
Protocol 3™ is a microprocessor based temperature and hi-limit controller designed to make oven operation simple and flexible. It provides a level of temperature control, versatility, and operational simplicity unmatched in the industry.
Easy to Operate
Protocol 3™ is easy to use for both simple and complex applications. Temperatures are displayed in either Fahrenheit or Celsius on a large, bright LCD display. Six indicator lights provide an at-a-glance review of the oven's operating status. The easy to read LCD display also provides detailed information on oven status with clear real-text messages and simplifies programming of temperature and time parameters with user-friendly menus.
Operating Modes
Protocol 3™ provides three operating modes in one versatile, easy-to-use package:
Manual Mode: A single set point mode that enables the oven to operate continuously at a fixed temperature until turned off.
Timer Mode: A single set point mode with timer control that enables the oven to operate at a fixed temperature for a user-selected time period, then automatically turns off.
Profile Mode: A multiple set point mode that enables the temperatures to increase or decrease as desired into "ramp and soak" profiles. These profiles can be created using 255 segments that can be allocated in up to 64 programs. They can be linked to provide additional temperature combinations. These can be named for easy selection. A bar graph on the LCD display shows profile and current segment progress.
Datalogging Functionality
Datalogging function allows for logging important process data for reporting and analyzing. Data files can be exported via the USB port on the front of the controller or through the communications.
---