Cat IV Wireless Multimeter & Datalogger
Product Announcement from Flir Commercial Systems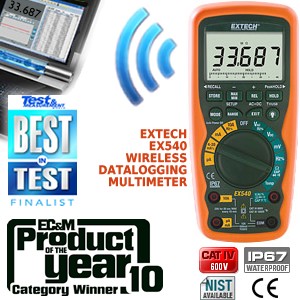 **** Click the yellow Request a Quote or Send an Email button now to learn more about this powerful and versatile instrument. ****
_______________
PRODUCT DETAILS
EX540: 12 Function True RMS Industrial Wireless MultiMeter/Datalogger
The multiple-award-winning Extech EX540 digital multimeter is the first handheld multimeter to offer wireless data streaming to a laptop or PC for datalogging or real-time monitoring. The new DMM is part of the EX500 series of industrial multimeters, considered the "toughbook" of multimeters. Extech's ruggedized, waterproof design can withstand a 6-foot drop, making it the ideal starting point for a go-anywhere DMM.
The innovative new meter offers wireless connectivity to your laptop or PC using a USB receiver with a range comparable to Bluetooth™ (10m/33 ft). The EX540 transmits real-time data for monitoring, trending and analysis (using the included software) on one of two available frequencies (433 and 914 MHz).
Now, electrical professionals can monitor and datalog readings at a safe distance from hazardous locations. Additionally, it is easier to perform remote tasks such as powering up a device from a control panel that is not nearby. From a time-saving perspective for laptop users, the EX540 permits a user to set up his or her laptop at a centralized location and then sequentially datalog readings throughout a site without relocating the laptop.
Ruggedized to industrial-duty specs, the new Extech is a True RMS DMM that, in addition to wireless datalogging, can log up to 9,999 readings internally and also reads voltage, current, resistance, capacitance, frequency (with dual-range sensitivity for electrical and electronic work), duty cycle (dwell), continuity, diode testing (2.8V), and even temperature (using its Type K thermistor bead probe).
The new meter features accuracy that is a tough-to-beat 0.06% and it is backed by a Category IV overvoltage safety rating, protecting users even on outdoor wiring.
Several one-button statistical data functions include minimum/maximum, relative, hold, and peak hold as well as selectable auto-ranging or manual-ranging. An analog-style bargraph complements the EX540's informative triple-reading display.
The Extech EX540 includes double-molded test leads, USB wireless receiver, temperature probe, magnetic hanging strap, 9V battery and carrying case. Additionally, NIST calibration is available. The suggested retail price for the EX540 is $299.99 (USD, US market). For more information, contact Extech Instruments at 781-890-7440 or visit www.extech.com/instruments.
The wait is officially over. For the invaluable versatility and added safety of remote monitoring and datalogging, the wireless datalogging multimeter has finally arrived.
PRODUCT AWARD HONORS:
NECA Showstopper Award -- Nat'l Electrical Contractors Association
The Extech EX540 wireless digital multimeter and datalogger has been awarded a 2010 NECA Blue Ribbon Showstopper Award. The award is given to exemplary products exhibited at the 2010 NECA Show held October 2-5, 2010 in Boston, Massachusetts. Of the 116 entries, 20 products were selected to receive awards. The EX540 will be featured in the January 2010 issue of Electrical Contractor magazine, the official publication of the National Electrical Contractors Association (US).
2010 Best in Test® award nomination -- Test & Measurement World
Extech's drive for affordable innovation in the handheld test equipment market was recognized by a key industry publication. The Extech EX540 wireless digital multimeter and datalogger has been nominated for a 2010 Best in Test® award.
Since 1991, the Best in Test® awards are presented annually by the editors of Test & Measurement World magazine. These awards honor important and innovative new products and services in the electronics test and measurement industry. read more...
2010 EC&M Product of the Year Category Winner -- Electrical Construction & Maintenance
The revolutionary Extech EX540 wireless digital multimeter and datalogger has been selected as the 2010 EC&M Product of the Year Category Winner for the Portable Measurement Equipment (Multi-Function) category.
According to Electrical Construction & Maintenance (EC&M) magazine, products were evaluated by a panel of six judges with a mix of electrical engineers, contractors, and plant facility personnel.
The Extech EX540 was selected by judges over the Fluke 233 detachable display multimeter, Fluke 28 II dustproof/waterproof multimeter, and the Agilent U1401A/U1401B handheld multi-function calibrator/meter. read more...
Features:
True RMS measurements for accurate AC Voltage and Current measurements
AC/DC Voltage & Current, Resistance, Capacitance, Frequency (electrical/electronic), Temperature, Duty Cycle, Diode/Continuity
Double molded for waterproof (IP67) protection, CAT IV-600V safety rating for industrial applications
Data Acquisition Mode for real time data transmission directly to your PC
1000V input protection on all functions
Dual sensitivity frequency functions (electronic and electrical ranges)
Large triple LCD display
Complete with double molded test leads, magnetic hanging strap, Type K probe, remote receiver with USB cable, PC software, carrying case, and 9V battery

Play Cat IV Wireless Multimeter & Datalogger Video
---