New Chlorine Analyzer Regulation
Product Announcement from Hach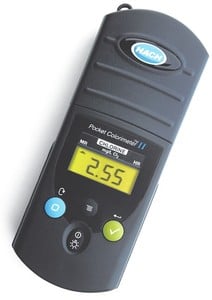 Loveland, Colo. - April 6, 2010 - Hach Company (www.hach.com) announced today the availability of laboratory products for compliance with the USEPA's new chlorine analyzer regulation, Method 334.0. These products can be used with any on-line chlorine analyzer that must meet the requirements of Method 334.0.

"In November 2009, the USEPA released Method 334.0 which outlines proof-of-performance and quality control requirements for on-line chlorine analyzers to be used for reporting residual chlorine in a drinking water system," Thom Voll, Hach Director of Laboratory Systems, said. "While the method provides requirements, specifications and acceptance criteria; it does not provide detailed test procedures. In response, the drinking water application experts at Hach developed a toolkit to help with compliance."
The toolkit includes:
Step-by-Step Methods. Created by Hach's Laboratory Applications team, this document directly refers to each requirement outlined in Method 334.0 and provides easy-to-follow test procedures for each.
Pocket Colorimeter II, Mid-Range Chlorine. New Range: 0.05-4.00 mg/L. This new Pocket Colorimeter II makes it easy to measure residual chlorine levels at a drinking water facility because it provides readings with 0.01 mg/L resolution across the entire EPA-regulated range.
Spec Gel Standards. A new mid-range standard kit allows for simple verification of the mid-range on the new Pocket Colorimeter II.
---