Product Announcement from MEI, LLC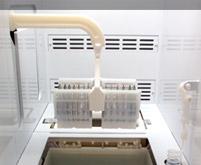 MEI Advancer Semi-Automated Single-Step Modular Wet Processing System
The MEI Advancer series wet processing system is a highly configurable, semi-automated modular, front to back side mount robotic wet station, suitable for a wide variety of etch, strip and clean steps. Applications include processing for solar cells, IC devices, medical device manufacturing, MEMS and parts cleaning. The Advancer wet process stations are bulk chemical ready and incorporate chemical spiking, software programmable "in-tank" blending of chemistries with quick dump rinse tanks. Configurability, up-time, yield, maintainability, and throughput are the hallmarks of an MEI wet processing system.
Small Footprint, Independent Controllers, Modular Design Blade
The MEI Advancer provides an extremely small footprint with up to four modules utilizing a robot per module. The host computer drives all robots independently enabling any combination of simultaneous or asynchronous processing in each module of varying recipes. This multiple recipe multiple lot processing is made possible by using MEI proprietary IDX Automation Software. IDX Automation Software provides superior process control capabilities along with the highest degree of maintenance flexibility compared with a PLC control based system. Within the MEI Advancer product line the robots are located outside of the process area and are not exposed to chemical fumes, resulting in higher reliability, ease of maintenance and lower overall expense over the life of the tool.
Advancer Gemini Dual Robot- High Capacity, Small Footprint
The Advancer Gemini dual robot Wet Process System is a popular space and cost efficient alternative to rotary platforms. The Advancer Gemini provides tremendous processing capacity within an extremely small footprint for a relatively low cost by incorporating:
Dual process tanks per module
Shared facilities
Shared electronics
Single control PC driven I/O system
Fewer facility connections aids in the speed, ease and overall expense of installation. Shared module designs also provide for lower exhaust requirements. Gemini tools offer all the same features and capabilities of the original Advancer but produce more throughput per square foot. Gemini can also be better configured for sequential process steps within the single module.
Advanced Process Controls
Closed loop monitoring and control of process chemicals using conductivity or IR methods of detection for use with chemical spiking.
Chemical or Ozone injected rinse tanks with monitoring
Rinse to resistivity setpoint monitoring
Software monitoring within user settable limits for consistent process results
Performance data
MTBF = 1500 Hrs Semi E10 x 92
MTBA = 750 Hrs
Reliability = 98% Uptime
Features: Advancer Semi-Automated Wet Process System
Single or dual cassette capability
All standard semiconductor processes available
6 and 8 inch processing with no changes
Modular design for ease of future expansion
Easy to access plumbing, pneumatics and electrical components
Single process and rinse design
Side mount robot, easily slides out for service
Optional chemical spiking capability
Sophisticated process controls and automation capabilities
Available in all common process configurations
Easily upgradeable with high reliability
Options: Advancer Wet Station and Wet Systems
Many tank and process bath options
Heater, chiller, dryer options
Spiking, reclaim, lid, overflow weir, recirculation, filter, fill method, agitation, flush and drain options.
Wafer carrier and queue-pass on cassette options
HEPA or ULPA filters
SECS/GEM
Bulk chemical supply
Integrated chemical spiking
Automatic or manual doors
Choice of materials, FM4910 (Halar, CPVC, PVDF) or Polypropylene or Stainless Steel
Semi S2-0703 3rd party evaluation audits and FM certified systems
UL compliant electrical components (MEI is a UL certified shop)
All of MEI's Wet Benches, Wet Stations and Wet Processing Equipment Are:
Flexible and Upgradeable

With modular designs, professionally engineered using SolidWorks and model tested
using Cosmos and Flow Works software.

Easy to Use and Well Controlled

MEI IDX Automation software running on an "off the shelf" standard PC host with
Windows XP provides easy to use, flexible and configurable controls.

Tailored

Designed to spec from one of our flexible platforms to your process and fab design, via
MEI's unique partnership design process.

Production Ready

Quality and safety are designed and built right in. We focus on equipment footprint,
high throughput & low cost of ownership to meet your process needs.
Software is SECS /GEM compliant to provide seamless fab integration.
Designed to be Semi S2 compliant.

Designed for Safety

Proprietary MEI design elements ensure safety, proper ergonomics, ease of
maintenance, and high reliability.

Maintenance Friendly

Up-time is everything. Thoughtful design provides easy access to all component areas,
and uses OEM, not custom components.
o MEI robots are custom designed and built in house for reliability, ease of maintenance
and service.

Reliable

Field proven reliability from twenty plus years of experience.
o Each MEI system is tailored and designed using Solid Works with detailed drawings that
ensure quality, precision and accurate documentation.

Supported

MEI provides world-class, award winning service.
Revolution systems include pre-shipment qualification, on-site installation and MEI's
quality support.
Standard 1- year parts and labor warranty, 2-year optional warranty.
Installation and start up included.

You have successfully added from to your part list.
---