Product Announcement from Marktech Optoelectronics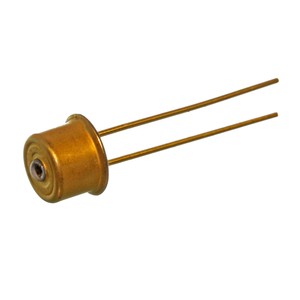 2085 Series
A very narrow emission beam and spectral output are key features of Marktech's MTPS2085 Point Source LED Emitter series. Point Source emitters have become the product of choice in applications such as Optical Encoders, Linear Positioning Sensors, Edge Sensors, Optical Switches and Machine Vision systems.The 2085 series contains addtional internal optics which help focus the LED light of the Emitter into a 10 ,20 or 30 degree beam output. Additional customization of this series is avaialble to fit application needs.
Point Source LED Emitters defined
An unobstructed, radiated beam pattern is made possible by masking the die and relocating the topside electrode. By eliminating the "dark spot" typically associated with the center of conventional LEDs, the point source LED yields superior results in critical sensing applications. These devices also offer an extremely low thermal coefficient and packaging options include standard TO-18 and TO- 46 metal cans as well as ceramic SMD types with standard aperture emitting windows 50µm and 150µm customizable up to 200µm.
Marktech's Point Source LEDs come with or without optics to provide the designer with optimum flexibility in sophisticated design efforts. Point Source LEDs supplied with factory optics can provide an extremely narrow, near parallel radiation pattern as low as 4 degrees. The optical grade, parabolic glass lens is specifically designed to optimize the effects of the Point Source chip. Devices supplied without optics are supplied with a glass window allowing the designer to utilize proprietary collimating or other application specific optics to take full advantage of the undistorted beam.
In additional to packaged solutions, Marktech has in house capabilities to produce custom assemblies or packaging utilizing the point source die. Red 650 nm Point Source devices are also available. Please contact Marktech's technical sales and engineering staff for product information.
About Marktech
Marktech for more than 25 years has been a technology leader specializing in LED chip processing and LED chip packaging. Our technical staff can assist with the design of an optoelectronic solution for customers based upon their application needs. We offer a wide variety of technologies and packaging solutions ranging from LED chips to finished packaging.
Marktech designs and manufactures LED Chip-on-Board assemblies and multichip LEDs which incorporate multiple die configurations or wavelengths ranging from UV to Mid IR. Our technical and production engineers manage a vertically integrated manufacturing process of circuit layout, die wafer and chip processing, die attachment and finished product assembly. Throughout all of our processes, the highest levels of quality assurance are in place making sure that the initial design is carried through the entire process.
Marktech's design capabilities have lead to our partnerships with CREE as a Solutions Provider as well as a Digikey as a design Design Partner.
A variety of standard high reliability components are available for immediate purchase on the Digikey Website.
About Our State of the Art InP/InGaAs technologies:
Utilizing sophisticated manufacturing processes in Epitaxial InP thin film growth, Marktech is now producing high reliability wafers on 2", 3" and 4" substrates with wavelengths of 1.7µm to 2.6µm. Demands continue to increase for higher transmission rate and longer wavelength components capable of exceeding today's commercially available products with speeds ranging up to 10Gbit/s. It is acknowledged that GaAs and SiGe based components have limitations in terms of speed. Devices based on an InP platform are capable of exceeding these transmission rate limitations, including the operating margin.
You have successfully added from to your part list.
---