Data Acquisition Product Selection Guide
Product Announcement from Measurement Computing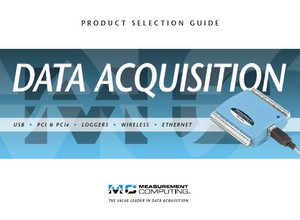 Measurement Computing Corporation (MCC), the market leader in value-priced data acquisition, has announced the release of their new Product Selection Guide for data acquisition and test and measurement. The guide is available in PDF format for immediate download at www.mccdaq.com.
The new 15-page Product Selection Guide presents a wide selection of data acquisition and control devices for USB, PCI, PCIe, Ethernet, and wireless interfaces, a series of standalone data loggers, and a complete line of test and measurement software for both programmers and nonprogrammers. The selections include Measurement Computing and IOtech brand products.
The Product Selection Guide is a tool for helping engineers, scientists, and technicians quickly and efficiently find the best solution for their applications. Interactive tabs along the top of each page send the user immediately to a selected product area, where products with descriptions and prices are organized by function and features. Integrated with the new MCC Web site, hyperlinks on the individual products in the guide, link directly to the appropriate pages on the Web site.
---