Draw-Wire Displacement Sensor - CET
Product Announcement from Micro-Epsilon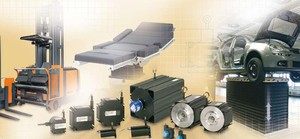 Draw-wire displacement sensors
by Micro-Epsilon are linear displacement sensors which can measure the linear motion, displacement, stroke or position by the means of a wire made of highly-flexible stainless steel strands, which is precision wound on a spring loaded drum.
The units provide excellent accuracy ( <0.1% FSO) at very low cost. The set up and installation is quite easy and Micro Epsilon offers you great flexibility for your interface:
4..20mA
0..10V, -5V ..5V
potentiometric
quadrature encoder
absolute encoder with various bus interfaces
Micro-Epsilon offers the largest variety of sensors with ranges from 50mm (2') up to 50m (165ft) in various configurations.
We offer custom design and modifications for OEM applications.

Play Draw-Wire Displacement Sensor - CET Video on YouTube
---