High Sensitivity Vibrating Sample Magnetometer
Product Announcement from MicroSense, LLC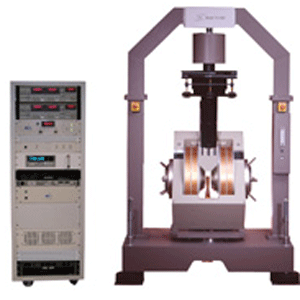 Benefits of Using the Model 10 VSM
Noise below 0.5 μemu with vector signal detection and temperature option in place
Highest Accuracy vector measurements
Field noise as low as 5mOe with optional low noise probe
Built in temperature control and vector - Temperature range 77K to 773K
Slide mounted sensor arrangement for quick sample changes
Safe and reliable air-cooled magnet power supply
Superior Performance by Design
The Model 10 Mark II VSM is a computer-controlled measurement system capable of characterizing the widest variety in magnetic samples. This vibrating sample magnetometer was designed from the start to be a vector magnetometer and accomplishes its outstanding vector performance by rotating the electromagnet and keeping the sensor and sample fixed relative to each other so that angular variation in the sensitivity is minimized and can be as much as 15x lower than what is observed in competing systems.
The accuracy in the determination of the magnetization vector is better than ±1.5% and ±1.5º.
In standard vector systems, the sample is typically rotated in a fixed sense coil system so that the sample shape (as seen by the coils) changes with angle when the sample is non rotation symmetric and the sample position changes due to non concentric rotation. This problem is especially prevalent in systems that use a long sample holder.
With averaging, the noise in the vector signal is below 0.5 µemu, 6x better than the noise level of its most common competitor.
The system always includes a temperature option with a range of 77K to 773K and because the temperature chamber has an inside diameter of 10 mm, it allows samples that have >2 more signal than temperature options in competing systems. This in combination with the low signal noise gives this system an unsurpassed Signal to Noise Ratio.
---