Optical Instruments
Service Detail from PLX Inc.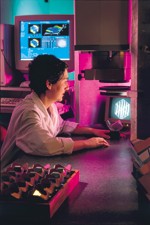 PLX provides unique optical instruments, technologies and solutions to problems of achieving and maintaining state-of-the-art optical accuracy and stability under severe environmental conditions. Our M.O.S.T.™ technology integrates complex optical elements into compact monolithic structures to achieve these objectives.

PLX products and systems are available in a wide variety of materials, mirror coatings, special metals, sizes and configurations. PLX is a registered ISO 9001 company, is fully compliant with ISO requirements, designs and manufactures products that meet Military Specs and has received over 20 patents for its innovative optical products.

You'll find PLX instruments in such diverse applications as spectroscopy, boresighting, beam alignment and delivery, ultra-fast phenomena research, laser delay lines, military fire control, environmental monitoring, satellite ranging and laser resonators.
---