Product Announcement from Process Heating Company, Inc.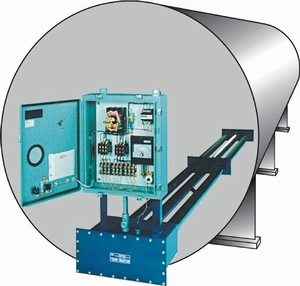 The "Lo-Density" Unitized Heater dissipates as low as three watts per square inch on the heater sheath. Temperature sensitive materials are those, which become damaged when too much heat is applied too quickly. Such products need to be heated by a carefully controlled system that reduces the viscosity so the material can be utilized in industrial applications. This makes the PHCo Unitized Heater viable with most temperature sensitive products for most every industry; asphalt and other petroleum derivatives for reducing viscosity; animal oils, fats, molasses for food production; lignite's, waxes, paints, inks, etc.
Unitized Heating systems are designed for easy installation. Tanks can be vertical or horizontal because dimensions are adjustable to suit any configuration. Installation is achieved by cutting a rectangular opening near the bottom of the tank. Heating elements / U.L. Listed control panel assembly is slid into place. PHCo heaters are far less trouble to install than coils for steam or heat transfer fluid because they are direct immersion heaters. No additional energy source is required. Simply hook up to utility or Gen-set power.
Unitized Heaters can be interfaced with other electrical equipment so the load of the heaters can be reduced to base rates and not incur demand charges or peak use rates, making their 100% efficient heaters even more cost effective.
PHCo products require no special insurance certifications because they adapt well to automatic control and can be left unattended without liability. Their heating elements have a five-year warranty and require no maintenance other than an annual check-up.
PHCo's Unitized Heaters are available in any industrial voltage, domestic or foreign, from 200 Volts and up. Special applications are a PHCo forte. They are accustomed to working with heavy industrial products. They have worked with a variety of products. PHCo has built specialized controls from the simplicity of using time clocks to the complexity of multiprocessor computerized control systems for their heaters.
PHCo Heaters are environmentally safe!
You have successfully added from to your part list.
---