Product Announcement from Remote Control Technology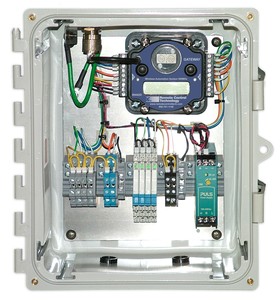 The Wireless Automation System is a 900 MHz radio frequency network with integrated I/O that can operate in most environments while eliminating the need for wiring runs. Systems are built around a Gateway, which acts as the wireless network master device, and one or more Nodes.
• Pump Control
• Valve Actuation
• Conveyor Control
• Grain Augers
• Light Control
• Stackers
• PLC Activation
• Engine Control
• Wireless Automation
The Wireless Automation System is an industrial I/O device with six discrete DIP switch selectable inputs, and six discrete (sourcing) outputs, with DIP switches for user confi guration. The system combines Frequency Hopping Spread Spectrum (FHSS) technology and Time Division Multiple Access (TDMA) control architecture to ensure reliable data delivery within the unlicensed Industrial, Scientifi c, and Medical (ISM) bands. The transceivers provide two-way communication between the Gateway and Node, including fully acknowledged data transmission site survey analyses. Lost RF links are detected, and relevant outputs set to user-defi ned conditions.
You have successfully added from to your part list.
---