ProfileIR 4069P Infrared Heater
Product Announcement from Research, Inc. (RI) /Precision Control Systems, Inc. (PCS)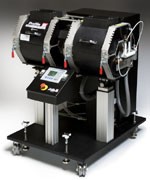 Infrared Heat. Instantaneous Results.
The Model 4069P ProfileIR® curing system uses high intensity infrared lamps and polished aluminum reflectors to deliver heat precisely where it is needed to cure irregularly shaped profiles.
It can instantaneously give a surface cure that eliminates marks that occur when uncured rubber rubs on a conveyor. Depending on the model selected, diameters as small as ¼ inch or as large as 4 inches can be cured. The lamps in the heater are controlled in six zones so more heat can be directed at the sections of the profile with the most mass and less heat toward the rest.
The system includes along with the Model 4069P ChamberIR heater, an operator interface pedestal with an Allen Bradley PanelView Plus 400 Keypad terminal, a split quartz liner, height adjustment with plus/minus 15 degrees of tilt off horizontal, product motion sensing to shut the heater down if the line breaks, and convenient connection points for power, air and water.
Applications
Surface cure of rubber profiles
Cure silicone rubber hose
Re-glossing plastic tubing
Curing coatings or adhesives on wire or cable
Flocking
---