CatsEye 6000XPro Video Inspection System
Product Announcement from Spectrum Instruments Ltd.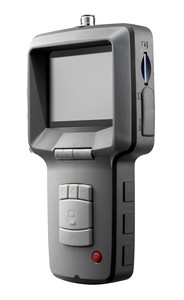 The CatsEye 6000XPro Videoscope System integrates high-end features in a low-cost instrument. A small water resistant 5.5mm OD probe houses a miniature high resolution CMOS camera and LED light sources in its tip. Realtime images are displayed on a light handheld 3.5" TFT color display. Digital photos and video clips are stored on a removeable SD memory card and can be digitally transfered via USB for post-inspection reporting. Highly affordable, the CatsEye 6000XPro Videoscope is a natural choice for every maintenance or reliability specialist.
The CatsEye Integrated Videoscope / Viewer / Recorder combines a pocket digital video recorder with a 3.5" color display, and a huge 2 Gb (or up to 32 Gb at extra cost) removeable memory card which offers the following customer benefits:
Small 5.5 mm OD non-articulating probes in lengths of 1M, 2M, 3M, 5M, 10M, 20M, 30M & 60M allows customers to inspect most critical equipment
Field replaceable probe reduces cost of ownership
Optional semi-rigid, rigid and articulation probes available
One-handed operation simplifies inspection process while improving user safety
Push-button selectable, still or video clip image recording, and SWR (snapshot while recording) expands users reporting capability
Integral photo comparison feature (before/after images)
4 integral LED lights controlled from main unit
Standard jpeg (640x480) & video clip files (320x240) are transfered by USB cable
Rechargeable Li-poly battery provides up to 5 hours of service on a single charge
Low cost - starting at under $2,000.00 reduces operator costs
Now available with a comprehensive list of optional accessories to improve system functionality - post inspection measurement software will be released shortly!
The CatsEye 6000XPro Videoscope offers all the above features in a package weighing under 3 kg - including display, probe and storage case!
Available for quick delivery in most configurations.
---