Multi-Channel Contact Closure Modules
Product Announcement from Ultra Electronics, manufacturer of Weed Instrument products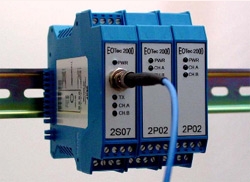 Ultra Electronics, NSPI now offers a new fiber optic transceiver for Safety Shut-Down applications used to convert up to ten contact closure inputs into fiber optic signals for transmission over a single fiber optic link. Upon activation of the inputs, the receiver module receives the transmitted signals and de-energizes the corresponding, on-board relay operating in a fail-safe mode for switching critical systems.
Each transceiver module includes two contact closure inputs and is capable of driving up to ten inputs by cascading additional dual channel input modules. A de-pluggable screw terminal on the bottom of the module is provided for connection to the input signal. An integrated backplane allows for communications between modules with no external inter-modular connection. Each transceiver has a single optical port for use with multi-mode or single mode optical fiber with transmissions at 850 nm or 1300 nm using industrialized ST/SMA connectors.
SPDT Form C relay outputs are provided for each channel capable of driving resistive loads with a maximum switching power of 120W, 250VA, and maximum switching current of 4A DC, AC.
Features:
Suitable for critical Safety Shut-Down applications
Transmits from 1 to 10 Contact Closure signals over one fiber
Compatible with multi-mode or single mode optical fiber
De-pluggable screw terminals for all wire connections
Integrated backplane with no external inter-modular connections
Visible status LED's for power, TX/RX and channel inputs
Fail-Safe relay operation
Accepts our standard power supplies
Available with dual redundant, hot swappable power supplies
Suitable for mounting on standard DIN rail
Operating range of -40 to 85 °C, 0-90% RH (non-condensing)
Dimensions (each module): 22.5 mm w x 99 mm h x 114 mm d
Maximum 15 mS update rate, regardless of number of channels
For quotation and product selection assistance please contact at Ultra Electronics, NSPI: Phone: (512)434-2850; Fax: (512)434-2851
You have successfully added from to your part list.
---