Product Announcement from Uson, L.P.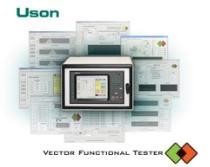 Functional testing involves challenging the performance of an assembly against a set of predefined performance criteria. For example, a medical valve may have a torque to turn specification as well as a leak and flow test specification. Functional testers can be used to test valves, turbo chargers, electric motors, thermostats, electronic and mechanical control devices, medical devices, faucets, showers and many other components.
Manufacturing and assembly industries around the world depend on functional testers to improve product quality and enhance process uptime.
For functional testing requirements, Uson offers the
See the pdf brochure HERE
Built-in Features
Multiple tests per channel
Up to 10 channels
Color flat panel display
Modular design
Ethernet connection
Hard drive
USB Ports
Tests/Sensors Support
Decision criteria on combinations of up to 12 analog sensors per test
Virtually any current or voltage sensor
Quadrature and pulse encoders
Serial/digital data communications
Angle, force, torque, current, flow, etc.
High sensitivity 24 bit resolution
Sampling rates up to 0.26 ms
Software
Windows XP® operating system
Application specific graphic displays
Purpose-built test configurations
User-settable test parameters
You have successfully added from to your part list.
---